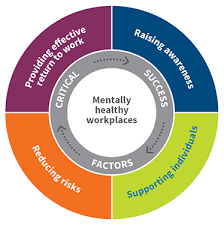 There has been a real buzz around mental health in the last couple of years and gradually it seems that some of the barriers around discussing this subject are falling. Despite positive moves forward there is still much stigma around the topic with a staggering 90% of employees reporting that they have given a false reason for absence from work when struggling with a mental health issue rather than being open about their condition. How can an organisation take steps to improve the situation if the real cause of the issue is not being reported?
Mental health is something that everyone has but it often has a negative connotation – and this does nothing to encourage more open conversations. But why would you want to encourage a more positive attitude towards mental health and more open conversations in your organisation?
In hard statistics, mental health impacts your bottom line. A happy workforce is a productive workforce – less absence and lower staff turnover equals less cost to your business, and higher productivity with pride in the quality of work leads to higher quality products or services. A relatively new entry into the dictionary is presenteeism – 'the practice of being present at one's place of work for more hours than is required, especially as a manifestation of insecurity about one's job'. There comes a point at which optimum output (and quality of work) reaches a peak and then diminishes, so longer hours and less security may well result in lower quality output, a downward spiral of worry, and concern on the part of the employee.
HSE report that 15.4 million days were lost due to mental ill health in 2017/18 - 57% of all working days lost. Some of these days are being lost in your company, and where employees who are suffering from a mental health condition are at work, their productivity and quality is likely to be lower than it could be. If you want to improve the productivity and happiness of your workforce, it's time to consider mental health.