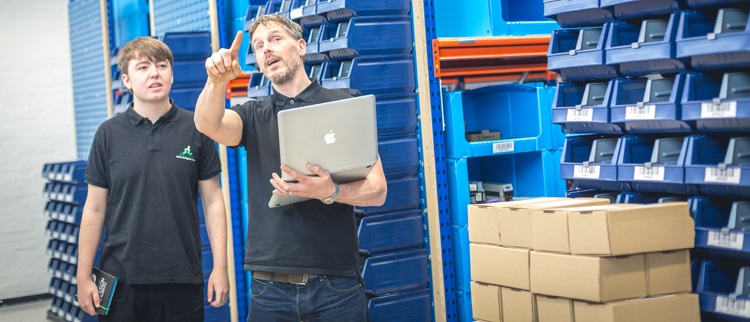 Founded in 2006 by Gildas Jones, Dial A Geek provide affordable computer support to small businesses in Bristol and the surrounding area. In 2016, Gildas made the decision to hire the company's first apprentice.
We knew we wanted to grow the team and had been planning on recruiting a senior technician, but then another small business owner suggested we look into getting an apprentice as it had worked well for them.
"We quickly realised that we could invest in and grow the skills of the whole team by recruiting from the ground up, rather than bringing in someone at a senior level which would actually limit the progression opportunities of the rest of the technicians."
Dial A Geek soon found that a quick internet search for apprenticeships can provide a huge amount of information, but sifting through it can be at best time-consuming and at worst overwhelming.
After spending some time researching on their own, Dial A Geek spoke to an advisor from Skills West, who explained how the apprentice system worked and the (then upcoming) changes.
After the meeting, Dial A Geek were able to formulate a clear plan of action and began accepting C.Vs from three apprenticeship agencies. Many agencies will ask for recruitment exclusivity, but it is entirely up to you whether or not whether you use multiple agencies to search for your perfect candidate.
It's not unusual for it to take longer to recruit an apprentice than a traditional employee, and Dial A Geek spent several months interviewing candidates before finding Joe. As it happened, it was Joe's first ever interview and he was understandably nervous. Luckily for Joe and for Dial A Geek, Gildas saw past his nerves and invited him back for a trial morning.
As in many small businesses, the team at Dial A Geek work closely together from one office so finding the right person to join the team was incredibly important. For this reason, trial mornings were a crucial part of Dial A Geek's interviewing process that allowed Gildas to see how the candidate gelled with the rest of the team. Taking on a young apprentice can feel like a risky move in a close-knit office, but, as Dial A Geek discovered, hiring the right person can have a hugely positive effect on the whole businesses.
Dial A Geek's primary reason for hiring an apprentice was to grow the team from the ground up rather than top-loading their talent. They were also hoping to foster an ethos of personal development within the organisation. A year on, Gildas confirms their expectations were more than met, and they were so pleased with Joe they have decided to hire a second apprentice this year.
We asked about challenges and Gildas told us that "aside from making everyone around them feel old, the biggest challenge apprentices present to small businesses is in the first few months of their apprenticeship, especially if it's their first job. As a business owner, it can be easy to forget how much accumulated knowledge you have from a lifetime of experience in the workplace. You can't expect an apprentice fresh from the classroom to hit the ground running, but if you can spare a little time to nurture their development your business will reap the rewards.
They may seem very young, but there are skills and a way of looking at the world that someone born in 1999 or 2000 has which you or I may not. Embracing diversity is one of Dial A Geek's core values for precisely this reason; fresh perspectives are what drives innovation and growth."
If your business is considering hiring an apprentice, or you would like to upskill your existing staff, speak to a Skills West advisor today.