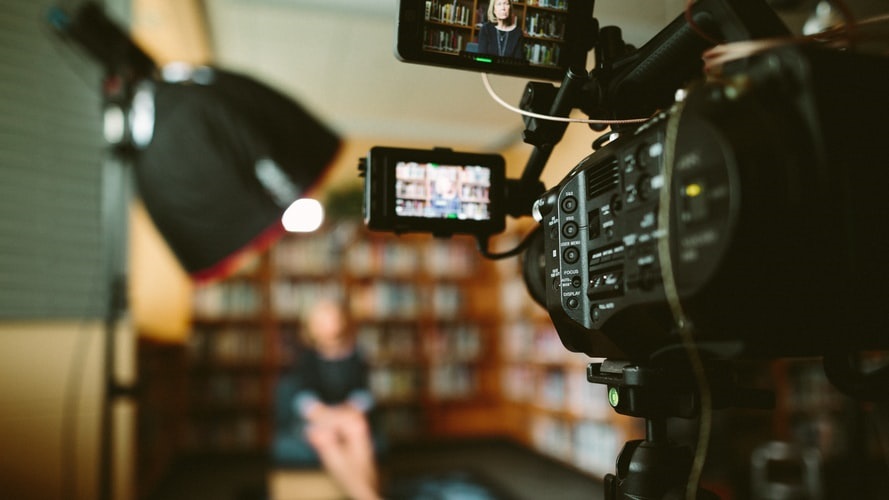 If a picture paints a thousand words, then video paints a whole lot more. Love it or hate it, we live in the age of social media: TikTok, Snapchat, Instagram, Twitter and Facebook and sharing video content is easier than ever.
Is your brand taking full advantage of the social video boom?

If you are already publishing video content - is it really resonating with your target audience?
As well as adding dynamism to your brand, video is the most effective way to connect with your customers. Successful video marketing happens long before the record button is pressed on a video camera. Understanding the mechanics of creating video is one thing, but a strategy for the type of content and how and where you will publish it is crucial.

In order to create an effective strategy for video content, it is about first understanding who your customers are.
How old are they?
Which online platforms are they using?
What tone of voice do they respond to?

Whether it is a 60 second company overview video for your website's homepage; a 3 minute 'explainer' video to explain a service you provide; a 90 second customer testimonial video or a 7 second social 'sting' to keep your brand on your customers' newsfeed, your content should always be dictated by the platform you publish it on.

You also need to decide if you are reaching out to new customers or reasserting your brand to existing customers.

Creating good video content is like baking bread!

Your video content should be inspiring and fresh. Don't settle for generic footage of people working, talking heads and office blocks - there are better ways to inject energy into your brand through video. You could consider:
Animation

Spoken word artists

Well-scripted voiceovers

Stop-motion, time-lapse, hyper-lapse

Actors or influencers
Whatever you choose, get creative and be bold. Look on the internet for inspiration, and remember, failing to plan is planning to fail. It is important not to underestimate the importance of pre-production – you can never have too much time to develop ideas for your video content.

Creating good video content is like baking bread: guessing or changing your mind while you're making it isn't a great idea. All the ingredients need to be carefully weighed and measured. The conditions need to be right. And once the bread is in the oven, don't be tempted to open the door! Have faith in the recipe and stick to the plan, and everything will turn out perfectly.

Where does your video journey begin?

What are your competitors doing? Is it appropriate to create your own content, or should you use professionals? Whilst there is no 'one size fits all' answer, often it is the case that professionally produced content can sit alongside DIY video content – especially now that people are a lot more used to using Zoom, Skype, and events have 'gone online' as a result of Covid-19.

If going down the route of using a professional video production company, there are some questions you need to ask. How long it will take and what the overall process will look like are key. Having an idea of what video content you need before contacting a production company is useful, although a good production company will be able to help you assess where video can fit into your marketing. They should always discuss different solutions and cost options with you. A 60 second company overview video can take many different forms. It could be wholly animated, with slick motion graphic text or have a voiceover. It could be filmed on your premises, with soundbites from your customers and staff. If your business doesn't have premises worth shouting about, then don't invite a camera crew in – animation is a brilliant way to create 'something' from 'nothing'.

What does your video need to achieve?

The purpose of a company overview video is not necessarily to list every single product and service you provide - your website should already be doing that. Your video is there to establish trust, show your company culture, and touch on its raison d'etre. Take a step back... why does your company exist? That's what your video needs to show.

Your instinct when spending marketing budget on producing video content might be to 'play it safe' or even copy what the competition are doing. Don't do this! Be yourself, otherwise you run the risk of being generic. Define your own pathway that truly reflects your business. You might be keen to show your actual staff, but they might hate being in front of a camera! And whilst your company's CEO may seem an obvious person to include on film, will your audience really relate to them? It goes back to who your customers are – age, demographic etc.
Also, think about where your audience are likely to be watching your content. Are they sat behind a desk at work, are they on the bus, or are they in front of the TV on a Friday night? Will they have the sound on their device, or does your video need subtitles? (This alone may dictate what kind of content you create in the first place – it's no use producing an epic customer testimonial video only for your audience to immediately scroll past it once they can't listen to it).

The golden rule with video is don't try to do 'everything' – the best video production is concise - it focuses on one great thing your business does. If your video is slick and well produced, it will leave a reassuring impression that your company is a slick operation and a safe pair of hands. If your video content appears amateurish or rushed, you may be doing more damage to your company than good.
Matt Paish is the co-founder of Jooka. His love of filmmaking originated from his background in writing and storytelling and he has worked as a business journalist, reportage photographer and freelance press videographer.
Together with fellow Jooka team members, James Stapleton and Robin Worrall, Jooka will deliver three exciting webinars as part of the Growth Hub's This Way Up: Leadership, Digital, Finance webinar programme. The team will look at ways to ensure that video is the right tool for your business; how you might make your own video content and how best to tell your story using video.
To register your place, or to watch again 'on demand', go to https://growthhub.swlep.co.uk/news-events/webinars