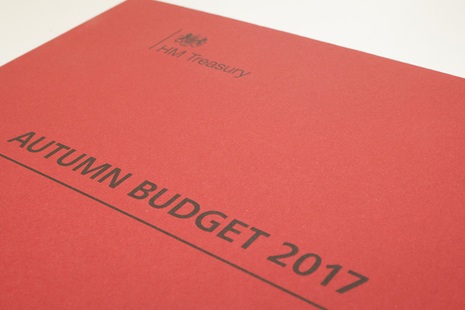 With costs rising and consumer demand flagging, small firms will welcome today's business-friendly Autumn Budget.
Mary Webb said "It was good to see the Chancellor's speech acknowledge our concerns about the VAT threshold. Dragging thousands of more small firms into the hugely complex VAT regime would have caused a significant drag on output at an already challenging time for businesses. We look forward to working with the Government to reform this burdensome tax. Small firms spend more than a working week a year complying with VAT obligations on average. It's time that should be spent growing their firms.

"The promise to tackle VAT evasion by online overseas sellers is welcome. No business should be gaining an unfair advantage by evading tax.

"The end of the staircase tax will throw a lifeline to thousands of small firms that had no time to prepare for this completely unfair and retrospective levy. The Chancellor has done the right thing by reinstating original business rates bills. We hope the end of the staircase tax marks the first step towards wholesale reform of the regressive business rates system.


"FSB has campaigned for CPI-indexation of business rates bill increases for months now and it's good to see that the Chancellor has listened to the small businesses that would have been hardest hit by an RPI-linked increase.
A move to three-yearly revaluations will go some way to making the rates system fairer over the long term. However, the delivery of this pledge must be carefully thought-through. It can't be allowed to inadvertently place additional burdens on small firms or require them to hire a surveyor just to get their bill right.
"It was encouraging to see the Chancellor acknowledge the vital role that small housebuilders will play in solving the
housing
crisis. The £1.5 billion extension to the Home Building Fund marks a promising starting point for making that solution a reality. The promise to invest £630 million to help more building on small sites, along with greater attention on upskilling UK construction workers, is also much needed. Small housebuilders need better access to finance and better access to land. This Budget will help make that happen.
"The Government's sensible approach to
IR35
is welcome. We told the treasury that it can't roll out the changes applied in the public sector to the private sector until there is clear evidence of its impact to date. We look forward to feeding in to a consultation on this issue and ensuring the rights of the genuinely self-employed are protected.
"With the Brexit clock ticking, other nations are trying to tempt our small firms to their shores. We absolutely have to make the UK the most attractive place in the world to invest in innovative firms. Today's announcement of an additional £2.5 billion for the British Business Bank to continue their vital work in facilitating
access to finance
for small firms will help make that happen. Freeing up pension funds to put more money behind innovative small firms will also add to our international competitiveness.
"FSB welcomes the increase in the
Enterprise Investment Scheme
(EIS)
allowance. This will encourage more investment in the fast growing businesses that drive productivity growth. Moves to eradicate misuse of the scheme for capital preservation are also welcome as long as they don't affect genuine investments in small, rapidly growing businesses.
"FSB has always supported the need for minimum wage increases that our economy can afford. It's good to see the Government showing flexibility in its approach to increasing the
National Living Wage,
while respecting recommendations from the Low Pay Commission and the advice from FSB.
"Extending the national
productivity
investment fund for a further year and upping R&D investment is clearly needed given today's revised OBR forecasts. However today's announcements will largely be to the benefit of large rather than small firms and we need to ensure that smaller business can also benefit from R&D investment. Equally, simplification of R&D tax credits is long overdue.
"Increasing
Vehicle Excise Duty
(VED) on new diesel cars may come as a frustration to some but it's good to see the Chancellor recognise the unique circumstances of van users. These vehicles are crucial to the success of thousands of local businesses. The freeze on petrol and diesel duty at a time of spiralling costs is much needed.
It's encouraging to see the Government making a meaningful investment in upskilling our workforce. Particularly welcome is the announcement of £30 million for digital skills

and long-distance learning.
"£3 billion of Brexit contingency planning and a promise to step-in to replace EIF funding provides some reassurance. Of course what we really need is the swift agreement of a time-limited interim period. Only then can small firms start to plan again for the future.