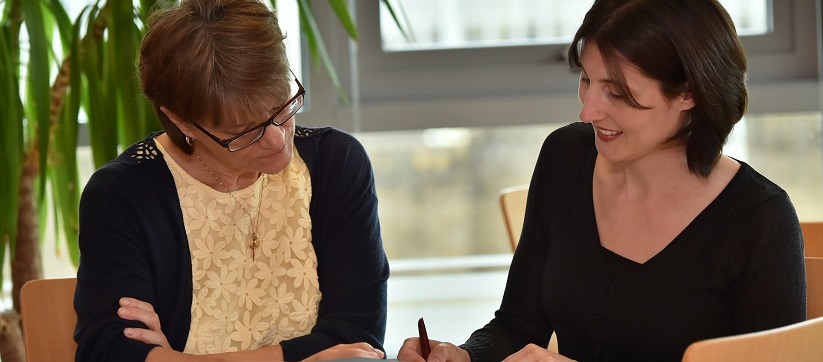 Syntacta Translation & Interpreting was set up in 2000 as the translation branch of the University of Bath. In 2010 the future of the business was thrown into doubt when the university decided to concentrate on delivering education. Faced with the threat of closure and the loss of their jobs, Syntacta was saved by two employees: Krystyna Lenik and Agnes Emch.

Between them Krystyna and Agnes have a working knowledge of more than 9 languages, but they utilise a network of over 600 translators and interpreters worldwide to provide translation services for their customers.

Agnes told us that transitioning to business owner meant learning to juggle all the elements of running a business that an employee does not have to think about:

"A small business owner not only needs to devise and implement business strategies, but also carry out the actual work and keep on top of all the peripheral activities such as IT resources, marketing and advertising, maintenance and planning, bookkeeping, HR, being aware of new regulations and legislation etc."

Her advice to other business owners is to outsource the parts of running a business that lie beyond their skillset. It's also important to go in with your eyes open about how much money you are prepared to invest in your business. "We knew exactly how much money we needed each month to break even and how much we'd have to bring in annually to make a profit."

"We're not your usual small business," says Agnes. "Because we were employees in the business before taking it over, we already knew the challenges, threats and opportunities."

In 2017, they became aware of the Swindon and Wiltshire SME Growth Programme, which includes monthly workshops such as Marketing Made Easy and Business Planning and Finance. Agnes and Krystyna attended several of the workshops and also benefitted from one-on-one mentoring from Yesim Nicolson, a Business Growth Advisor.

"We gained a lot of practical and actionable knowledge which has enabled us to refresh our business strategies."

Although they never expected to become business owners, the experience has been a positive one for Krystyna and Agnes:

"Success is very rewarding as you can see the direct result of your own efforts and it is very satisfactory to have the freedom to implement your own ideas. Some of them work, some of them don't. It's a perpetual trial-and-error process and very exciting!"


If you're running a business in Swindon or Wiltshire the SME Growth Programme will provide you with up to 12 hours of support to ensure that you have the skills and knowledge to successfully grow and develop your business. From providing you with the skills to market your business and create robust financial plans, applying for a start-up loan, or accessing tailored business advice, working closely with our growth advisers will give you the head start that you need.