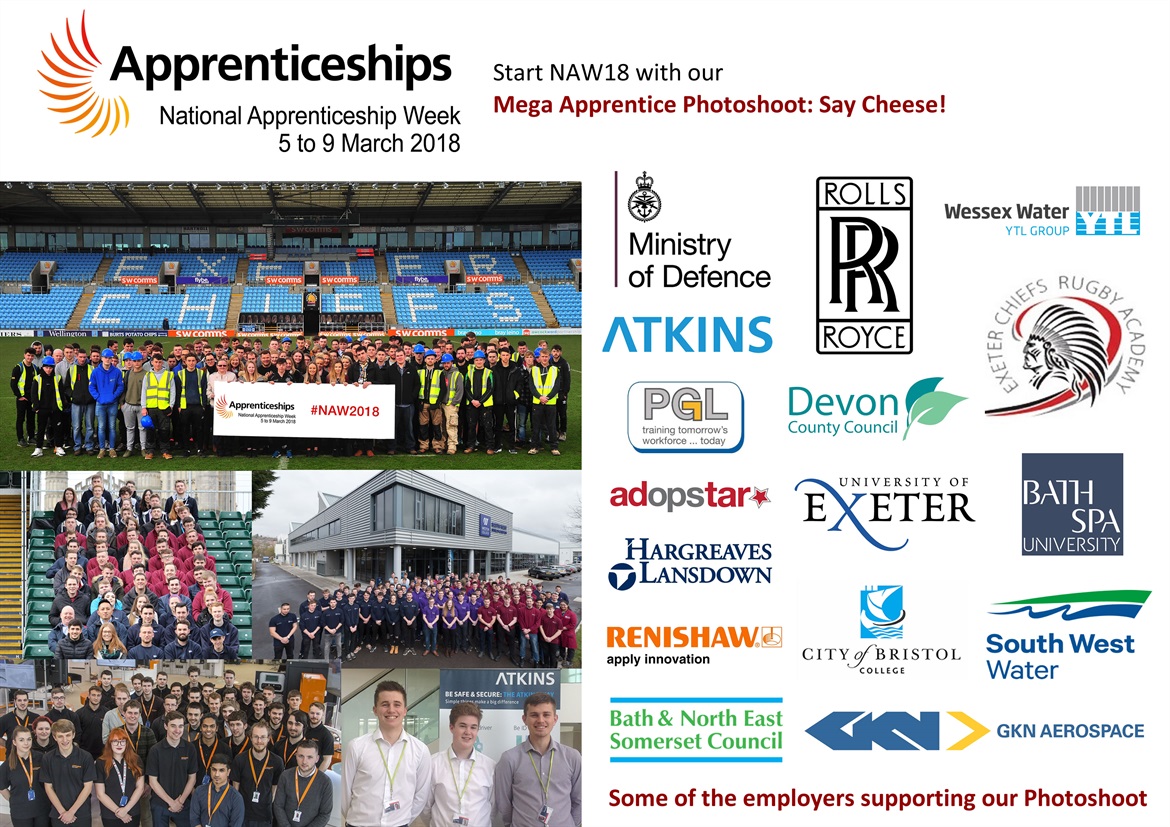 The National Apprenticeship Week photoshoot took place at two of iconic rugby grounds – Exeter Chiefs' ground, Sandy Park, Exeter and the Rec in Bath, where Wiltshire based apprentices were in attendance. The photo gallery also includes groups of apprentices at Weston College, Renishaw and Atkins.
The South West Apprenticeship Ambassador Network organised the photo shoot on Monday 5 March to mark the start of National Apprenticeship Week 2018.
The mega gathering celebrates apprenticeships as a ladder of opportunity for a brighter future and the impact they are making in their community, in their workplace, in the economy and for themselves.
To mark the end of NAW18 the South West Apprenticeship Ambassador Network is hosting a graduation ceremony at the Grand Pier, Weston super Mare on Friday 9 March, where apprentices that completed their programme in the last year are encouraged to attend.
It is expected that the success of circa 60 apprentices graduating at intermediate, advanced and higher level will be celebrated. The graduates will be coming along with family, friends and their employers. They will also get the opportunity to 'have a go' on some of the famous Pier amusement rides.
The afternoon event is also hosting the launch of the West of England Young Apprenticeship Ambassador Network.
If you employ an apprentice keen to talk to other young people about this great route to work, then visit the Young Apprenticeship Ambassador Network website for details.

If you're interested in employing an apprentice in Swindon or Wiltshire and don't know where to start, contact Higher Futures for impartial, local support. You can also take an Apprenticeship Quiz for Employers, produced by SupplyTrain, to get a baseline understanding of apprenticeships.