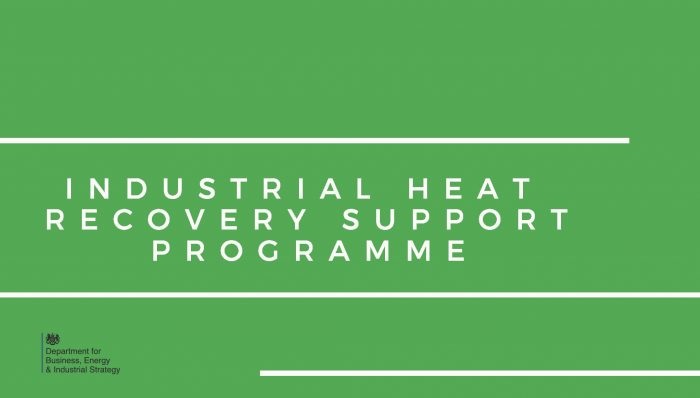 About the programme
The Industrial Heat Recovery Support (IHRS) programme is designed to encourage and support investment in heat recovery technologies. This means helping businesses of any size to identify and invest in opportunities for recovering and reusing heat that would otherwise be wasted. The programme runs until March 2022.
Recovered waste heat can be used in many ways, including:
Within the same industrial facility
By another end-user (for example a heat network)
By converting the waste heat to power
This will help businesses lower their fuel costs, reduce waste heat and cut emissions.
To take part in the programme, you can apply for a grant which will partially fund your proposed project. Your proposal must align with the programme objectives, which are to:
increase industry confidence to invest in technologies to recover heat from industrial processes
increase deployment of such technologies in England and Wales
Funding (from a total pot of £18 million) is allocated through a competitive process. Scoring criteria is provided in the programme guidance documents.
The programme is split into 2 phases:
Phase 1: conceptualise and define the areas where your business could reuse waste heat; assess costs and benefits
Phase 2: the delivery stage: detailed design, procurement, construction, commissioning, operation start-up and monitoring and evaluation
Projects can be funded from 3 different entry points:
feasibility study and preliminary engineering (Phase 1); or
preliminary engineering only (for applicants who have already undertaken a feasibility study independent of the IHRS) (Phase 1); or
detailed design and delivery (Phase 2)
All grant funding will be provided in line with state aid rules.
How to apply: steps and guidance
The IHRS programme is open to applications.
To apply, or if you have any questions, contact the IHRS delivery partner, ICF:
call 020 3096 3106
email

[email protected]

.
ICF will guide you through the application process and provide the appropriate documents for you to complete.
Application registration: form

ICF will guide you through the application steps and provide the appropriate documents for you to complete.
The application process has 4 steps which can take up to 4 weeks (not including assessment):
Application registration
Submit Checkpoint form
Submit Application Workbook
Assessment
Please note:
It takes approximately 2 weeks to provide feedback on the Checkpoint forms, following which you complete the Application Workbook
Assessment, notification and signing the Grant Offer Letter and Grant Funding Agreement takes up to 2 months
The Programme Guidance Note provides an overview of the IHRS and the Questions and Answers document is updated regularly:
Follow this link find the download the zip file contains the template checkpoint forms and application workbooks, example checkpoint forms and application workbooks, specific guidance, and templates of the Grant Offer Letter and Grant Funding Agreement that you will receive during the application process via our delivery partner.
Our delivery partner can provide further guidance and support you through the application process - see the Contact section below.
Programme scope
The programme is open to:
Companies in all industrial manufacturing sectors as set out in the Office of National Statistics (ONS) Standard Industrial Classification (SIC) codes 10 to 33
Data centres (SIC Code 63110), given their emerging significance and high impact potential
Third party companies, to apply as the main applicant, on behalf of sites operated by companies within the eligible SIC codes
Contact
If you have any questions about the programme, please get in touch with our delivery partner ICF:
Phone: 020 3096 3106
Funding available
There is still a maximum amount of approximately £15 million of unallocated funding to be allotted to the final 2 assessment windows. The funding amount will be reviewed following the February / March Assessment Window.