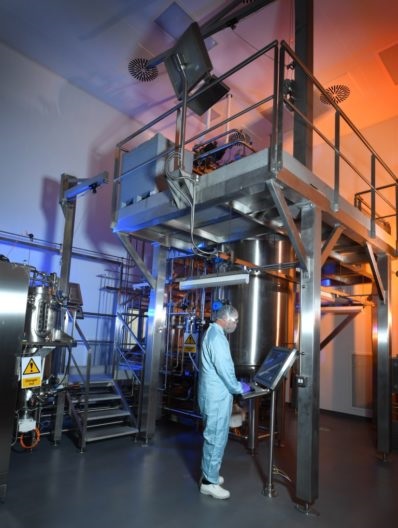 Porton Biopharma Limited ("PBL"), the UK biopharmaceutical research, development and manufacturing company, announces that it has signed an exclusive, worldwide licensing agreement with Clinigen Group plc ("Clinigen") for the distribution of Erwinase®/ Erwinaze® ("Erwinase"), the Company's life-saving treatment for acute lymphoblastic leukaemia, a cancer of the blood predominantly affecting children.
Clinigen is a UK-based healthcare business with an international distribution network, a focus on cancer and a particular ability to match products and patients. This new relationship with Clinigen offers significant long-term financial and commercial benefits for PBL, enabling the Company to grow and further the supply of Erwinase. PBL will receive future sales-based milestone payments, alongside tiered royalty payments based upon worldwide net sales. The agreement represents an attractive return for PBL and its sole shareholder, the UK Government's Department of Health and Social Care.
The new contract with Clinigen will begin on January 1st 2021. The current distributor of Erwinase, Jazz Pharmaceuticals PLC, will continue to distribute product to ensure continuity of supply for patients during a transition period.
Soren Demin, PBL's Commercial Director said:
"We are delighted to be working with Clinigen in the future with the signing of this exclusive licensing agreement for the worldwide distribution of Erwinase, our life-saving treatment for acute lymphoblastic leukaemia, to meet the growing demand for the product worldwide and to explore new indications."
Roger Hinton, PBL's Managing Director said:
"The agreement with Clinigen follows a major investment of more than £50 million during the past three years in PBL's manufacturing facilities. The investment included a new fermentation facility, which was opened in 2018 and has added considerable manufacturing capacity to meet future demand for Erwinase, which had sales of $177 million in 2019. PBL is now ideally placed to further grow the business and build on our pipeline of life-saving and protecting biopharmaceutical products."

About PBL

PBL is a biopharmaceutical development and manufacturing company.

It was formed in April 2015 as a spin-out company of Public Health England, part of the Department of Health and Social Care. PBL is based at Porton Down, Wiltshire, which has a long history of pharmaceutical development and manufacturing. Erwinase, the UK's anthrax vaccine, Dysport and other medical treatments have been developed at the site by the forerunners to PBL. PBL has approximately 350 staff and has a sole shareholder in the Department of Health and Social Care.

About Erwinase®

Erwinase® was developed by PBL and was registered in the UK in 1985 for the treatment of acute

lymphoblastic leukaemia ("ALL"). It has since been registered in 19 countries worldwide including

the US, where it was approved in 2011 and is sold as Erwinaze®. Erwinase is manufactured solely by

PBL at Porton Down, Wiltshire.

An asparaginase enzyme derived from the bacterium Erwinia chrysanthemi, Erwinase is used primarily as a second line treatment in ALL patients who have become sensitive to Escherichia coli derived asparaginase. In 2019, Erwinase had worldwide sales of $177M. More than 1200 patients were treated during the year, almost all of which were children.

About Clinigen

Clinigen is a global pharmaceutical and services company with a unique combination of businesses focused on providing ethical access to medicines. Its mission is to deliver the right medicine to the right patient at the right time through three areas of global medicine supply; clinical trial, unlicensed and licensed medicines. The Group has sites in North America, Europe, Africa and Asia Pacific. Clinigen now has over 1,100 employees across five continents in 14 countries, with supply and distribution hubs and operational centres of excellence in key long-term growth regions. The Group works with 22 of the top 25 pharmaceutical companies; interacting with over 15,000 registered users across over 100 countries, shipping approximately 6.4 million units in the year.