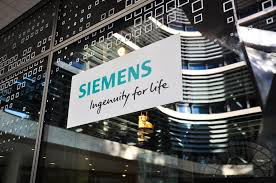 German technology giant Siemens is moving into office space at the newly refurbished Bewley House in Chippenham. Siemens operates globally, employing 379,000 people in 200 countries and specialising in electrification, automation and digitalisation.
This latest move will see Siemens Plc relocate its software development department of the business into the first floor of Bewley House, taking 4,300sq.ft. of office space. It will fit out the space over the next few months before moving in up to 30 members of staff later in the year. The company has said the move will enable it to grow in the future.
David Boakes, of Siemens, said, "We are relocating to Bewley House because we like the location, being central in Chippenham means there are good transport links and various amenities close by for employees. Being able to put all of our staff on a single floor plate should allow much better collaboration. We also like the efforts by the landlord of Bewley House to make the office more environmentally friendly."
HPH Commercial Property own and manage the Chippenham building. James Gregory, partner at Alder King, said HPH's commitment to investing in its property portfolio, creating modern and efficient work spaces made a huge difference.
More details here.