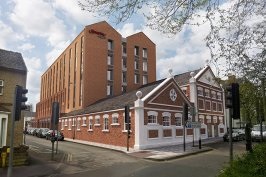 Former Paragon laundry to become a hotel
Work has begun on the £12m renovation of the former Paragon Laundry building in Swindon's Aylesbury Street by Old Town-based Ridgevale Estates.

The Grade II listed building will be transformed into a 112-room Hampton by Hilton hotel, which will create around 60 jobs. The existing facade will be preserved as part of the renovation scheme.

The building was originally constructed as a cheese factory in 1841 by the Aylesbury Dairy Company. The factory supplied dairy products to London via the Great Western Railway, situated opposite.

In 1891 it was converted by the the Swindon Steam Laundry Company into a laundry, complete with Carpet Beating Room and Mangling, Drying and Ironing Room.

Permission to convert the Victorian building was granted by Swindon Borough Council in 2018. The building forms part of the council's Heritage Action Zone, which includes the Mechanics Institute.