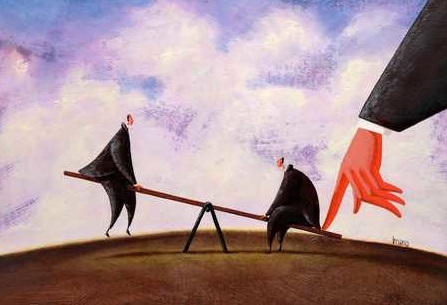 This has never been truer as a combination of the blurring of on premise and online, growing customer sophistication, tighter margins, internationalisation and increasing competition from so many differing segments and new entrants.
Differentiation may not be based on what service you can provide but on how fast you can understand the individual customers' needs and how well those needs are fulfilled. In other words "creative agility" and 'needs anticipation' coupled with the ability to take risks on a regular basis.
These risks and decisions have to be fact based to have a chance of mitigating the risks and that requires knowledge built on many elements, including market knowledge, industry, fickle customer demands, competition, legislative requirements and changing product and / or service needs. It also means moving much of the decision making closer to the customer.
That companies have to evolve is not new, what is new is the rate of evolution required and the drivers of that need for evolution that are changing. We are almost at the stage where if you blink you may miss it and certainly for some companies it may well feel like that.
The principles at stake here are complex and will be alien to some in that they still believe in a more traditional approach and a 'we've always done it this way' approach. This may suit their existing clientele however customer tastes, preferences and buying habits are changing, even at the mature end of the scale, everyone from 'baby boomers' to gen Alpha.
This isn't an age thing either, this is about individual preferences, always. The Internet is becoming less of a mystery to the older generation and it's a vital part of existence to everyone else so it must be comprehended in any interaction. Equally it isn't just about the internet either, it's about the easiest way to research and purchase goods or services. The line between on-premise and on-line is blurring, both B2B and B2C businesses need to understand the implications and customer requirements after all it is always people to people. Special online deals are fine, but if that's given as a reason not to provide the same deal to a customer who is visiting your store in person then that's a bad experience. The fact that the store is more costly to run than the website is your problem not the customers.
The advantage of online is convenience to browse, research and buy, the convenience of on-premise is being able to view and touch and where appropriate take immediate ownership. So what can be tolerated from either as a compromise and what is seen as unacceptable?
Remember that this isn't about whether to service your customer online or on-premise. This is about delivering an experience that the individual wants, something that has a positive effect on customers such that it compels them to want to return.
So what constitutes a company that can enable a good customer experience? Currently companies must have the following to at least be able to start, however this list isn't exhaustive and I'm sure will be subjected to change in the future.
Creative and innovative culture in tune with the business and customer environment.
Empowered and trusted work force, that understands what the company is about and can deliver to what the company expects. This isn't just the customer facing teams, this is everyone.
Transparent leadership from the management team, engaged and committed to stand behind the company promise and support its workforce in delivering to that promise.
Clear expectations ..... with both customers and employees, set by a business plan and supported by good governance.
Close attention paid to markets, competition and popular trends to stay ahead, this requires a forward thinking leadership team that's prepared to listen to its work force and its customer's.
Take risks and act on ideas and direction no matter where they originate, management don't have the monopoly on good ideas.
…. And remember to look both ways, out towards the customer and in towards the people supporting them.