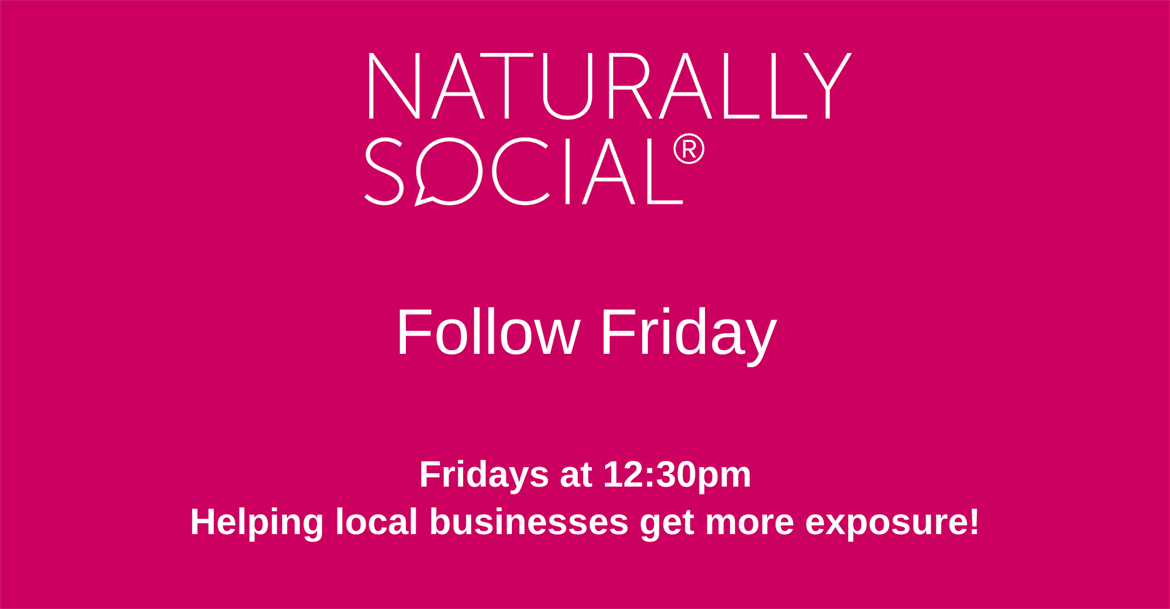 On the 24th March 2020 the Naturally Social team began working from home as lockdown was introduced. The team were and still are fully operational, but it got us thinking about how we could continue to give back to local businesses during lockdown.
We're passionate about small businesses and each week team Naturally Social post our #FF (follow Friday) recommendations over on our twitter account for businesses doing a fab job on social media.
After some thinking and discussion, we decided to move those business shout outs from Twitter over to Facebook. We took them another step further and doing a live interview with a local business owner. And so, our weekly Follow Friday Business Shout Outs were born!
Each week Natalie spoke to our guests about the effects that Covid-19 had had on their business and the ways that they had adapted due to the pandemic.
And so, after 12 weeks, it felt right to pull together our top 12 lessons from lockdown.
1. Shop local, Support Local.
Nicky Bragg, of Fromie Gifts, lives for her local community in Frome and runs a gift shop championing local independent suppliers. Her gift boxes allow buyers (and receivers) to be greeted with that Christmas morning feeling when their amazingly packaged, gift box arrives.
The key message from Nicky was that while her shop is fantastic, it has been "the strength of my online offering has been so important when it comes to longevity".
What we learnt: Having an online presence is important to any bricks and mortar business. If we're ever in the same position again, which we hope we never will be, independent shops can still thrive if their digital offering is on point.
2. Optimism is key.
When we talked to Caitlin Backhouse from True To You Photography we were astounded by the optimism from a brand new business (launching just weeks before lockdown).
With work drying up overnight, Caitlin had to adapt her business to try and generate some income. In a time where she is unable to physically deliver her service, Caitlin began offering gift vouchers; a 'buy now, book later' service if you will.
"I think there will just be a massive boom as soon as we're all back to normal and it will be worth all of this to get there".
What we learnt: Regardless of how established your business is, adaptation is key. Being flexible in your business plan and the services that you're offering can mean the difference between waiting for the storm to pass and grabbing an umbrella and enjoying the rain.
3. No website, no problem.
Natalie Owsley of 30 Day Sculpt, a local PT and fitness instructor, already had an online element to her business. But there were many barriers to overcome when it came to moving the entirety of what she does to the web, including class sizes, streaming equipment and space.
Classes were soon delivered publicly and privately via zoom and Facebook, and were supported by closed Facebook groups. The pay online option on her Facebook page, via PayPal, also meant the user experience is quick and easy. This meant that more time could be spent in the business instead of on the business, which is fundamental for Natalie's industry.
When Natalie was asked why she didn't have a website, she said "I deliberately want all my traffic to go through my socials because this gets me some immediate face to face time with people and a way to interact with them".
What we learnt: Maximising your social media during a crisis is key. Funneling all business discovery and customer service for a small local community through Facebook can offer big rewards. Interacting with enquirers and followers is key in generating a passionate and interactive following. This then allows for an increase in reach and awareness, which in turn leads to more sales and sustained sales.
"Anything you can do now that betters your business will be magnified as your market comes back and expands" - Ashely Hutchinson, A&S Business Consultants
4. Quality service and customer care is always important.
Jack from Right at Home, Chippenham, shared the importance of sustaining quality customer care during a crisis. Despite a high interest in working in the care sector, especially from those on furlough, quality recruitment and quality care services remained a top priority.
When we asked how people can further support his business and other small businesses, he said that engagement on social media was really important "engage with posts, share posts and tag people".
What we learnt: Remember that customer service is key. Some industries will have seen an increase in clients and others a decrease. Regardless, you should always aim to deliver the highest standards in customer service. This is a strategy for lifetime gains, not short-term wins!
5. Small businesses can have a big impact.
Any business can give back to their community, and that is exactly what Jamie-Lee Jones of B-Unique Beauty and Aesthetics has been doing. It's a fantastic use of time while Jamie-Lee waits to open the doors on her brand-new salon in Durrington.
By using her Facebook page, Jamie-Lee has spent time offering beauty tips to her followers free of charge. Not only that but she created a Facebook group where other salon owners can talk about ways to improve the industry and their businesses.
So, it doesn't matter how small your business is, there are always ways to give back and add value to your community.
Jamie-Lee felt strongly about giving back to key workers that she came up with a way to give back. By providing gift vouchers, to the value of £15, to those locally working on the front line it was a rewarding way for Jamie-Lee to give back "I'd seen so many great ideas but I wanted to do something unique and from the heart".
What we learnt: Giving back and adding value is a win-win strategy for any business. If you're a service-based business, think about how you can use free tools to position yourself as an expert or thought leader. When you're ready to start trading, you'll have built a loyal fan base already.
6. Don't get boxed in.
Helen Pinkett showed us that it does not matter how many strings to your bow you might have or want. When you're passionate about them all, don't let yourself be boxed in. Don't feel like you have to niche down to be successful.
Your passion will get the job done but you must be proactive. Write the to-do list and attack it with determination and intent.
What we learnt: Inspired actions is such a fantastic way to describe the importance of 'striking when the iron is hot'. If you have an idea, write it down and act! Carpe Diem!
7. Use your time wisely.
When we interviewed Jessamine from Little Pickles Markets we found another business, like so many others, that had been drastically affected by the pandemic, resulting in the inability to operate full stop.
Despite that, the lockdown didn't stop Jessamine from building a supportive community on Facebook. Engaging with people and offering them ideas on how to keep the kids busy has been great for Little Pickles Markets, and we especially loved the 'I'm bored jar idea'.
What we learnt: Using time to work on instead of in the business is a super useful way to make use of time during lockdown.
Review and adapt. Look ahead and plan. Now is a fantastic time to ask yourself how you can work smarter, not harder.
8. You can do more than you realise.
The amount of community support that local businesses have provided never stops surprising us.
Craig from CK Painting & Decorating adapted his business to add additional services to local key workers by offering to source and deliver paint samples for anyone undertaking some DIY.
The business adapted the way quotes were provided, handled enquiries, and delivered projects, adhering to government guidelines at all times.
What we learnt: Communication is key! Make sure that your customers are aware of any changes during a crisis and how you will operate under new circumstances.
9. Innovate and accelerate.
Josh at Smithomatic innovated his bespoke design business and quickly pivoted to provide PPE for key working and front-line staff and businesses.
Being faced with recognisable effects of Covid-19, Josh adapted his business using the equipment he already had in his studio. Adapting his business to make face masks and face shields allowed him t give back to front line staff. Not only that, but he ran a crowd funder and raised over £1300 that enabled him to continue to make face shields and distribute them with no cost to key workers.
What we learnt: Small businesses are best known for their flexibility. Due to their size, they can easily adapt and pivot without the constraints a larger firm might have. Use that to your advantage.
10. Pay it forward if you can.
How people treat others now is what will carry forward when the lockdown, county, country and the world all get back to 'normal'.
So being able to be flexible with other small businesses and recognise and acknowledge their struggles is a perfect example of outstanding customer service.
The affects on Tom Beavan's business, Tom Beavan Websites, is comparable to more small businesses in the area. Projects are being cancelled or put on hold while businesses get to grips with the changes that they are experiencing/experienced.
"I feel completely fortunate to be able to work but I understand that it isn't the case for everyone". Understanding the point of view of your client, and even others within the community will help you to build a connection with them and could build customer loyalty.
What we learnt: If you can be flexible with contracts, payment terms and project deadlines.
Support someone in a time of need and they'll remember you. Don't hesitate to ask the same of your suppliers. We're all in this together.
11. Use your time wisely.
When we chatted to Kieran from Priority IT, we found out about an incredible initiative they launched in late April/Early May. Recognising a growing digital divide in homeschoolers across the county as a result of lockdown – between families that could afford laptops and PCs and those that couldn't. As a result, they began refurbishing unloved laptops to donate to those that needed them most.
"If there's a laptop, we can provide it, no strings." Refurbing old laptops and upgrading them to windows 10 has allowed the business to donate some 70+ laptops to local school children, the only requirement "please be honest. It's for your child to do homeschooling".
What we learnt: The skills of a business or team can be used in so many ways. Whether that's taking in old technology and upgrading it free of charge or sharing knowledge online – look inward and ask 'how can you make an impact?'. With more consumers wanting to buy from ethical companies, this approach will serve you in the long run and make you feel good along the way.
12. The new normal.
After 12 weeks it was time to bring the Facebook Live interviews to an end. But what better way to end such an amazing series of interviews than to look forward to the future. We couldn't think of anyone better to interview than Ashley Hutchinson from A&S Business Consultants.
As a business coach for the past 8 years, Ashley has been working with business owners to help them achieve both their professional and personal goals. Using his time during lockdown to research and understand what is now being coined 'The New Normal'. Ashley has been offering free 30 minute calls for business owners keen to understand how they can come back stronger once lockdown has lifted.
"Until the staff come back into the business and all that money (from bounce back loans etc) has been spent, businesses are going to be living in a false economy".
What we learnt: With things not likely to get back to normal for the next 12-18 months, it's important that business owner take the time to plan and be ready for the changes and challenges that lie ahead.
Go on the offensive! As Ash says; "anything you can do now that betters your business will be magnified as your market comes back and expands".
That's a wrap!
We'd like to say a huge thank you to all the businesses who joined us for our Follow Friday Business Shout Outs, and to everyone who took the time to watch. One viewer told us:
"I just wanted to say, on your last hosting day, that after listening to a few of your sessions. I really appreciate what you did in setting this up. I think it's been so useful for so many and you've really done a great job."
Be sure to follow the 12 businesses, and us, on social media and share the love.