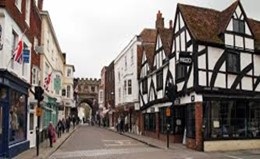 Two Wiltshire Council bids for Government funding to help reinvigorate Salisbury and Trowbridge high streets have been successful with more than £25m being awarded.

As part of the Government's Future High Street Fund, the council has been provisionally awarded £16,347,056 for Trowbridge and £9,355,731 for Salisbury.

The Future High Streets Fund was launched by the government in December 2018 to help revitalise town centres to ensure they can respond to the ongoing impact of both online shopping and out of town shopping.