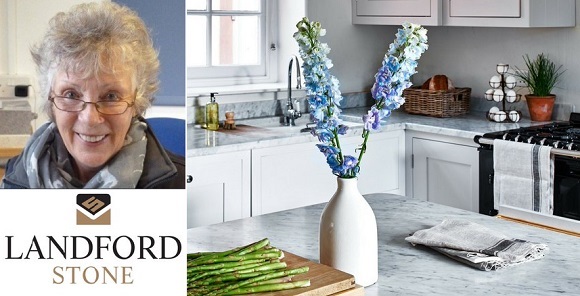 Leaving School Molly Fisher aspired to be an art teacher but her love of art and fascination with quarries came together when she started Landford Stone in Salisbury some 45 years ago. Today the company employs over 30 people, including three generations of her family.
The company import granite, quartz, limestone and marble from across the world and fabricate kitchen worktops and stone installations for residential and commercial clients. Landford Stone are renowned throughout the industry for their standard of work and are considered the No.1 stone fabrication company in the UK.
As a business that has a track record of growth over four decades, has survived two recessions and has a staff team with long service records and low levels of churn, you can't help but ask the question, what are their keys to success? Talking to Molly about her business journey and the company's culture she has developed from the top-down, she said:
"It's not about the money, focus on the right things and that will follow. What motivates me is providing excellent client service and of course my love of quarries. A fish rots from the head, how you lead your business will determine its success. Our business is our staff; we genuinely look after them and everyone is treated as family – in fact they all call me Granny! Re-investment in your business is crucial and do not borrow from the banks unless you absolutely must. Keep on top of trends and new opportunities – at the moment we're having fun with outdoor kitchens."
At the Business Growth Summit, Molly will be sharing from her business journey and experience in a fireside interview with Editor of the Swindon & Wiltshire Business Exchange Anita Jaynes. Delegate places are FREE and can be booked at
http://events.easybook.com/swlep18
and include a complimentary one day park ticket for guests to make a return visit to Longleat.