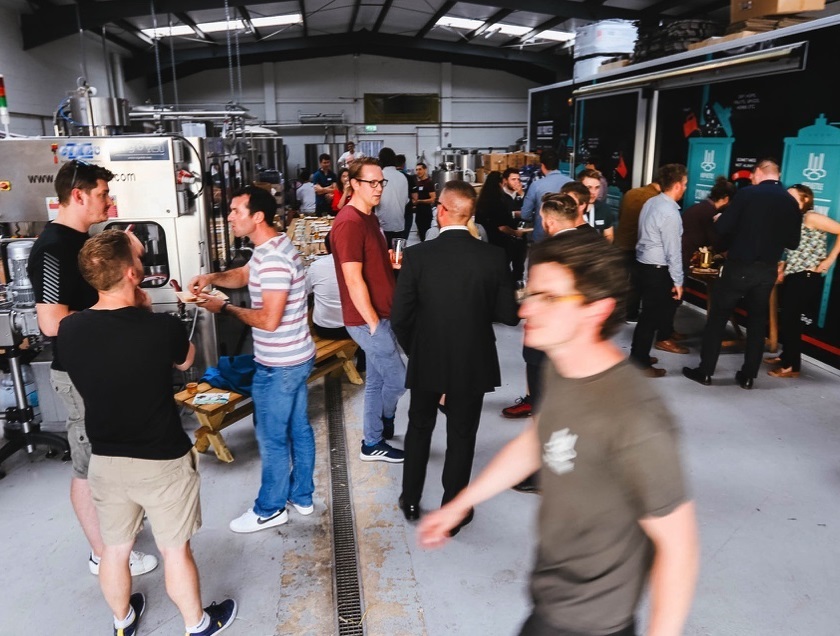 Young Enterprise Swindon (YES) hosted its second official event with young professionals and guest speakers, Tim Sherhod of Hop Kettle Brewery and Sophie Thomas of The Grazing Company.
The networking event received over 90 signups prior to the event, likely because they had promised an opportunity to network with 'like-minded' people and a free drink to attendees - it proved to be a great turnout.
Tim Sherhod from Hop Kettle Brewery kicked things off with a brief history of the brewery, its challenges and also where it would be heading as people enjoyed some of the beer.
Next was Sophie from The Grazing Company who had prepared a huge food platter for the event. Sophie went on to also share her journey with being a foodie entrepreneur and the challenges she faced, followed by multiple questions from the audience.
Andrew Wells of Business West and Anita Jaynes from The Business Exchange formed the networking group known as YES, alongside creative duo Ben Lawton and Dan Pettitt of Ottr Works. The partnership is supported by Swindon & Wiltshire Growth Hub.
Ben Lawton, who hosted the event said: "It's so refreshing to be able to facilitate these events, having a networking group where everyone is fairly young makes it much easier for people to connect and establish meaningful relationships in a short period of time."
Dan Pettitt, the other half of Ottr Works said: "Walking around the brewery and interacting with so many young and driven people was the exact reason why we facilitate these events. Theres no better sense of achievement than hearing positive comments about YES and seeing familiar faces return from the previous event. I cannot wait to see whats next"
Andrew Wells from the Swindon Initiative said "Young Enterprise Swindon takes a totally fresh and unique approach to networking. We have an objective to create something different that reaches a new audience and enables young professionals the opportunity to build relationships, share ideas and do business with one another. This event has been another example of the vibrant young business community in the town and we are excited to run more evenings like this over the next few months. "
Chris Stevens, Business Skills Consultant with Higher Futures, representing the Swindon & Wiltshire Growth Hub said "The YES events are a great opportunity to highlight in an informal environment the opportunities available to young entrepreneurs, helping them and their staff to grow their business by learning new skills, or building on existing ones"
YESwindon's goal is to host events every 6 week, with interchanging locations, themes and talkers.
If you would be interested in hosting a YESwindon event, or would be interested in speaking at a future event, email [email protected].