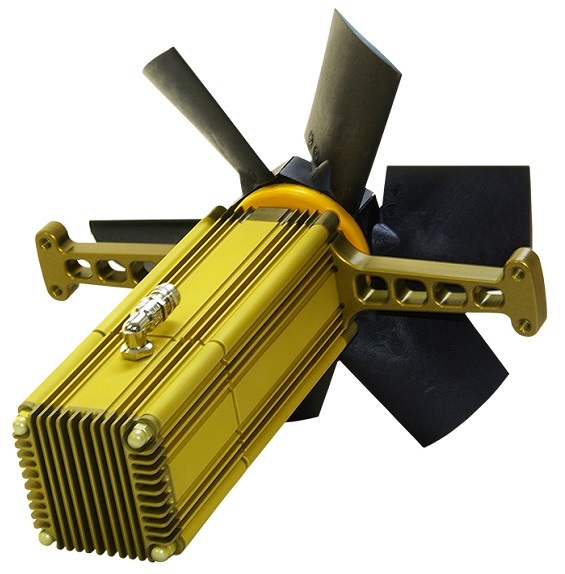 Ocean Footprint, a Salisbury-based boat part manufacturer, is set to make waves in Australia with a deal to supply one of the country's biggest boat builders.
The business, which was founded in 2017, already sells 12% of its goods overseas and now exports to six countries including the US and Singapore. The latest deal in Australia will quadruple the volume of its exporting sales.
The pump exported to Australia is being certified for use on commercial vessels in Australia and will soon be the first 24VDC bilge pump to be authorised for use in the Australian market ever. This is a big deal for the business as the average vessel would have around 15-41 of these pumps on board, and Australia has a very strong boat manufacturing sector. A founding member of the board of the Australian Maritime Safety Authority (AMSA) is also sponsoring this product and advises Ocean Footprint that he is very confident this pump will succeed.
The predator pump is a submersible DC bilge pump that has an exceptional ability to pump large volumes of water with very low power consumption, it has the ability to run dry for extended periods without damage to any components. This pump is assembled and manufactured in the UK and 90% of its components are of British origin.
The firm has worked with the Department for International Trade (DIT) to gain insight into potential new markets.
Peter Harrison, Business Development Manager at Ocean Footprint, said:
"British engineering and manufacturing is globally regarded for its high quality in the marine industry, which is why exporting was always at the heart of our growth plans.

"We've seen great international success and exporting is now expected to outperform our sales in the UK. However, there are many things to consider before taking the plunge. The differing tax, legislation and regulatory landscape are the main things to consider for a business like ours, which is why we got in touch with DIT in the first instance to help us overcome any potential pitfalls.

"All the trade advisers we dealt with have a background in business and fully understand what we were trying to achieve. They also put us in touch with other companies that had already found overseas success, so we could learn from them too. If we can do it, so can many other local firms."
Paul Shand, DIT Head of South West, said:
"What Ocean Footprint has already achieved on the world stage as a young business is very impressive. The firm has clearly capitalised on the huge demand for British products overseas.

"We know the challenges faced by businesses when trading overseas but it is important that they understand the benefits that exporting can bring, such as greater resilience and profitability.

DIT can offer a range of support through our network of International Trade Advisers based across the region, export finance managers, sector specialists and colleagues in over 108 markets I would encourage anyone thinking about exporting for the first time, or considering their next international market, to get in touch."
To find out more about support for your business and exporting please click
here.