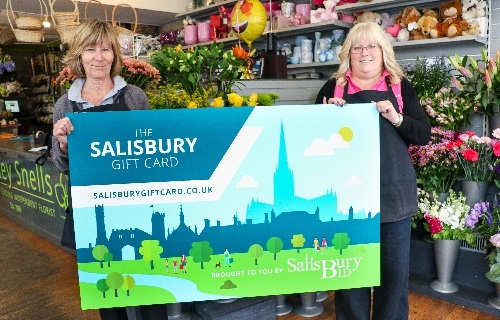 An initiative of Salisbury BID, the card is designed to bring more consumer spend into the city by encouraging people to 'shop local'.
Working in the same way as any branded store gift card, the Salisbury Gift Card is pre-loaded with the amount available to spend, with options ranging from £10 up to £500.
Launching in June 2018, the card can be used at participating retailers, restaurants, pubs, cafes, hotels and tourist attractions. Key sectors include retail, leisure, health and beauty and entertainment.
BID Chief Executive Robin McGowan said:
"This is an excellent initiative to keep spend in the city and support our businesses. The product is a huge success in other cities across the country and has so far been very well received by Salisbury businesses."
"We have a superb offering in Salisbury and the BID is doing all it can to help us regain momentum after recent events."
Salisbury BID are also encouraging employers within easy reach of Salisbury to consider offering it to their workforces as an employee incentive or reward.
Susi Mason, owner of independent High Street shop Casa Fina, a specialist in lighting, home and fashion accessories, and a BID director, said: "There is no more direct way to boost shopping activity in the city than with a Salisbury-wide gift card.
"This is a fantastic innovation to show support for local businesses while giving the card holder complete choice in how they spend the amount gifted."
The initiative is completely free to Salisbury BID members, but businesses must register to participate and already have a card payment facility.
Sign-up is triggered by a BID representative swiping an initial gift card through a payment machine. Branded window stickers are available to highlight involvement.
Registration of businesses is under way now and consumers will be able to purchase the card online in June at www.salisburygiftcard.co.uk or at selected sales points in the city.