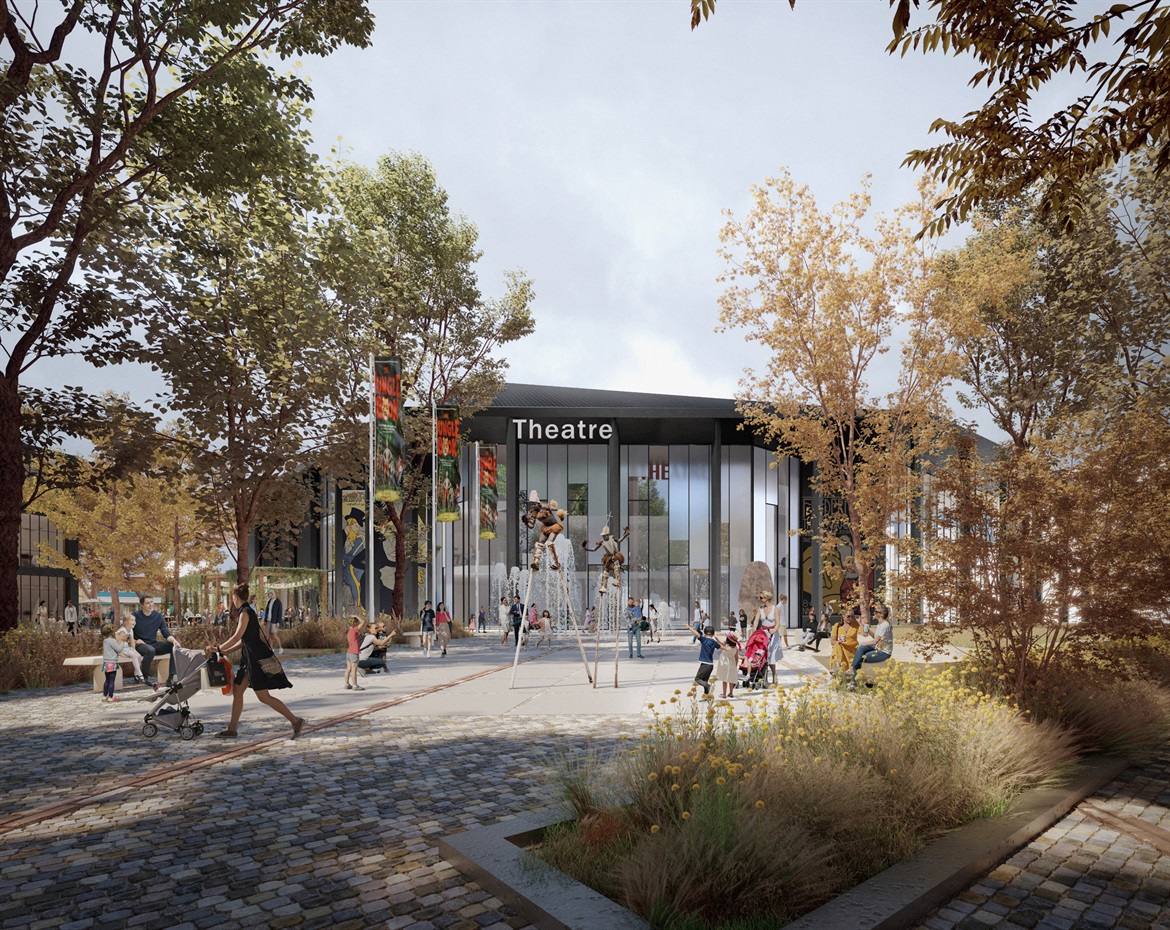 A bold vision to deliver a Cultural Quarter in Swindon will be shared with major investors and funding bodies through a new prospectus which sets out a clear roadmap for its delivery.
Contributing to the recovery of Swindon's town centre post-COVID, the Cultural Quarter would be delivered over the next 10 years and located between the railway station and the new Zurich offices, which are being built next to Fleming Way.
The Cultural Quarter vision has been developed by Swindon Borough Council in partnership with key Swindon cultural organisations and their users and participants including Swindon Dance, Create Studios, HQ Theatres and Prime Theatre.
Sustainability will also play a crucial role and there are plans to make it the UK's first net zero carbon development of its type and an exemplar for the positive contribution culture can make to the environment and to a town centre.
A 1,200-seat theatre - twice the size of the current Wyvern Theatre and able to receive the very best touring theatrical and musical productions - would form a key part of the new cultural offer.
The theatre's auditorium would also be flexible enough to welcome music concerts in all genres, including for standing audiences, and a new 200-seat studio for local groups would sit alongside the main house.
A new dance studio, media and arts production centre and art pavilion to display Swindon's nationally-significant art collection, also form part of the plans. Under the proposals, and with Swindon Dance moving to the new dance studio, the quarter would extend to the former Town Hall, which is being considered as a home for Swindon's museum collections.
It is estimated more than 850,000 people will visit the Cultural Quarter and its venues in the first year alone, generating more than £35m of retained local economic activity and more than 1,300 jobs. Around 75,000 training, learning and engagement sessions would be held at the quarter, annually.
It is anticipated the whole development is likely to cost in the region of £80m, and the investment prospectus will be used to attract the investment necessary from the private sector and various cultural funding bodies.
The prospectus and the work to date has been funded by Swindon and Wiltshire Local Enterprise Partnership (SWLEP) and its board will meet next week (25 March) to hear the latest on the plans and the next steps for delivery.
Councillor Dale Heenan, Swindon Borough Council's Cabinet Member for the Town Centre, Culture and Heritage, said: "Delivering a 1,200-capacity theatre to replace the Wyvern, a new media and arts production centre, new dance studio and art gallery will provide a huge economic boost, and reinforce our long-term plan to improve our town centre.
"Six months ago, the idea of a Cultural Quarter with construction finishing within 10 years was praised by many residents, businesses and arts groups who read the business case. We approved the plans, and decided that it was an important step to write an investment prospectus by March to showcase what we aim to achieve in Swindon.
"Today we have that investment prospectus and it will help to attract the money we need to pay for everything. We will be putting in a bid to the Government's Levelling Up Fund which gives us the chance to receive up to £20m and, if successful, that would go a long way to helping us achieve our funding target
"I am optimistic because my new approach to the town centre has seen more than £100m secured over the last two years, and the first crane is already here. It's taken time but people will soon start to see real visible changes happening so we can be positive about Swindon's future."
Paddy Bradley, CEO of the Swindon and Wiltshire Local Enterprise Partnership, said: "Swindon town centre's Cultural Quarter is a great vision which will benefit the town's population, businesses and visitors alike. The impact of cultural assets on a local economy cannot be overstated.
"This project will generate skills, products and insights that will contribute to the social and economic well-being of Swindon's business community and add vitality to the town centre which is important for our region. This fantastic project is another reminder of why Swindon is such a unique and dynamic space to live and work."