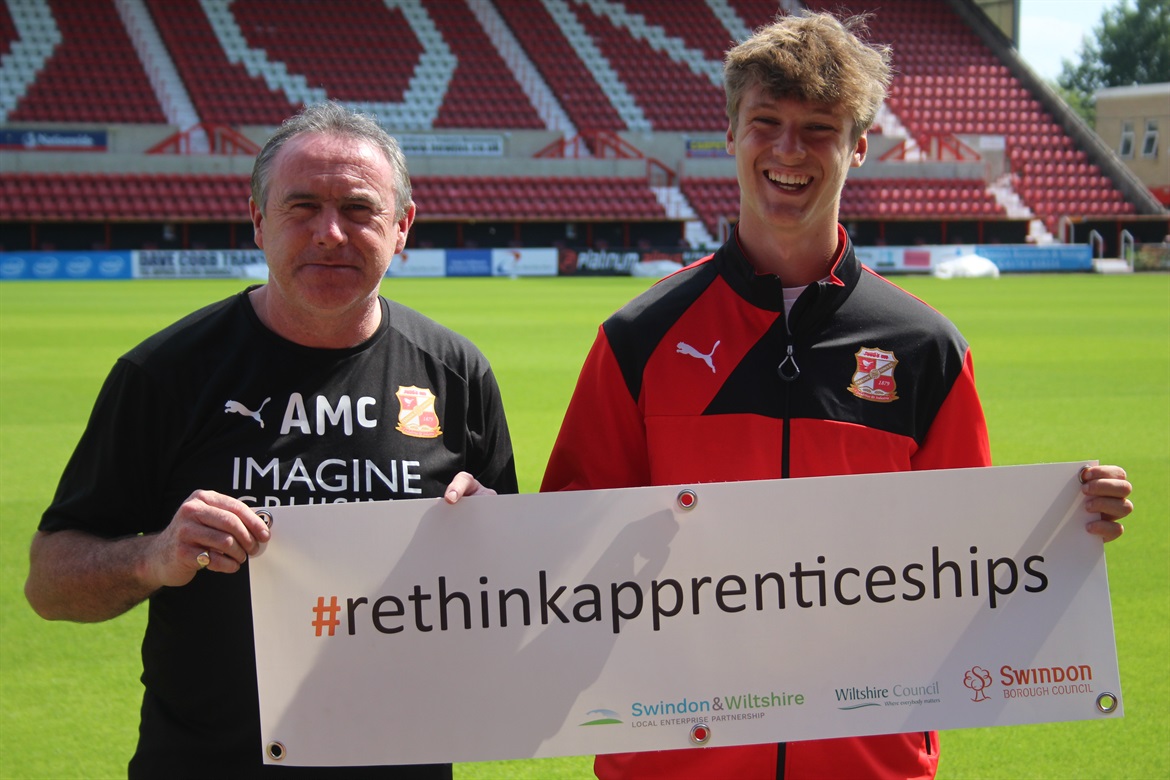 Joseph Romanski made his senior debut for Swindon Town at the backend of last season and recently scored his first professional goal for the club in a 3-2 win against Tranmere Rovers, but it's not just on the pitch where Joseph has impressed.

After gaining Double Distinction in his Level 3 Sporting Excellence Apprenticeship in May, Joseph was then named in 'The 11' by League Football Education (LFE) for his outstanding apprenticeship achievements, before signing his first professional contract in June. Quite a few months!

He is now a regular in the first-team at Swindon Town and has been described by manager Phil Brown as having all "the tools available to build a successful footballing career."

Today, apprenticeship experts SupplyTrain find out what Joseph thinks about his apprenticeship and how it helped him progress towards a job as a professional football player.

"Congratulations on making your debut, signing your first professional contract, achieving distinctions in your apprenticeship qualifications and scoring the winner against Tranmere last week! It sounds like quite a few months… "

How did your apprenticeship help you prepare for life as an elite athlete?
"I think most people don't realise many football players start as real apprentices - just like thousands of other young people across the country. I went to college one day a week and learned from the academy staff at the club the rest of the time.

"It's not just football training either. Obviously there is football practice and I'm trying to improve my game, but I was also taught about using social media and being in the public eye, how to act on a night out, responding to criticism and keeping my feet on the ground when things are going well. I think all of these things combined have helped me prepare for life as a football player."

Does the off-the-job learning in college really help you become a better football player?
"Good question - yes it does. For example, one of the modules we learned was about nutrition. The course tutor at New College Swindon taught me all about macronutrients, micronutrients, when to eat certain food groups to increase my bulk, recover quicker and feel better on the pitch. I used this information to adjust my diet; and my game improved massively as a result."

If you hadn't made it as a professional, do you think your apprenticeship has prepared you for work somewhere else?
"Yes, I think so. I'm really grateful to have been given a professional contract, but all football players are just one bad injury away from retiring, so it's important the apprenticeship is teaching you general life skills - and this one definitely did.

I've got experience of coming into work everyday, working with different people, solving problems, as well as distinctions in my vocational studies. I think those are things most employers would be impressed by. I hope so anyway!"

What would you say to other young people in Swindon & Wiltshire about apprenticeships?
"Go for it. You're not just getting paid to do a job, you're getting real life experience and qualifications to set you up for life too. That's not a bad way to start your career. It's definitely given me the skills, knowledge and attitude I need to make it in my profession, so it can do the same for you!

#rethinkapprenticeships
Apprenticeships in Swindon & Wiltshire are changing beyond recognition - make sure you know the facts - whether you're an employer or a young person!

- You can study a degree-apprenticeship - without any student debt!
- Apprentices make almost as much as graduates over their whole careers!
- You can become a Solicitor, Teacher, Nurse, Software Developer, Footballer, Accountant and almost any other career through an apprenticeship route!

Test your knowledge with these free, fun apprenticeship quizzes.
Can YOU get 100% right, like Joseph Romanski did?
- Young person apprenticeship quiz
- Employer apprenticeship quiz

For more impartial information on skills and apprenticeships in Swindon & Wiltshire, visit:
- Young People & Parents: www.workwiltshire.co.uk/apprenticeships
- Employers: www.swlep.co.uk/higherfutures