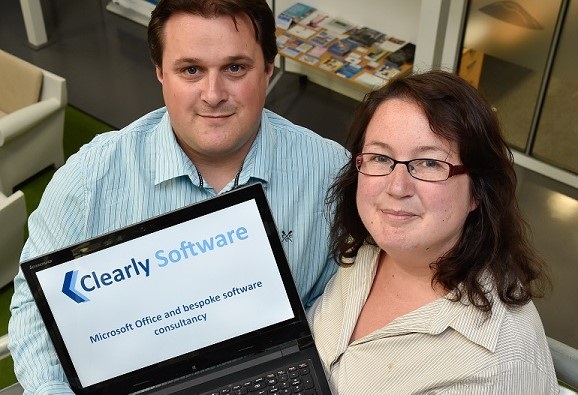 Business Name:
Clearly Software
Business URL: www.clearlysoftware.co.uk
Service Provider:
The Enterprise Network (TEN)
"At the end of the working day, we can now lock the office and go home," said Zoe. "It means Guy actually stops work at a reasonable time and we can enjoy time at home rather than constantly working late into the evenings. We've only just moved in, and it already has changed our mindset. I think it will be much more productive working in an office than at home!"
Guy, a software engineer specialising in creating bespoke IT data solutions for businesses, set up Clearly Software last year, and initially used the virtual office facilities at the Castledown Enterprise Centre in Ludgershall.
"As a new business, I wanted to create the right impression, and originally we thought we would not be able to afford an office, so we started using the Enterprise Centre's virtual office and business address service," he said.
"But we soon realised the down-side to working from home is that you don't really ever stop. We took some business advice about renting an office – just a small one, perfect for just the two of us – but we were surprised how difficult it is to find small offices, and how expensive.
"Then we realised the solution was right under our noses!"
Now the couple have moved in to their own two-desk office at Castledown Enterprise Centre and are enjoying a better work-life balance.
TEN supports small and start-up businesses, offering hot desks and co-working spaces, free advice and information about available business grants.