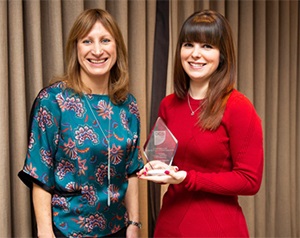 At a time when government figures show that 72 per cent of large companies and 49 per cent of SMEs are suffering a tech skills gap, the need for good quality digital apprenticeships is crystal clear, according to Swindon-based BCS, the Chartered Institute for IT.
BCS was marking the success of Hannah Surry, the 1000th Digital Apprentice who received a trophy from Annette Allmark, Head of Apprenticeships. Twenty-year-old Hannah gained a distinction in her Level 3 Software Development Technician apprenticeship in January and was presented with a commemorative trophy from BCS at a special ceremony held during the National Future of Apprenticeships Conference 2019.
Annette said: "Unknown to Hannah, not only did she do fabulously well in achieving a distinction grade, she also made us incredibly proud by being the 1000th apprentice to be assessed by BCS. As the leading professional body for IT in the UK, we have been central to helping drive the new digital apprenticeships.
"This is a significant milestone for BCS because we have one very clear aim - to design a brighter digital future for everyone.
"Apprenticeships play a critical role in helping to address IT and digital skills shortages, so every single one of these 1000 apprentices will make a positive contribution to the profession."
https://www.bcs.org/more/about-us/press-office/press-releases/1000th-digital-apprentice-completes-apprenticeship-assessment-with-bcs-the-chartered-institute-for-it-professionals/