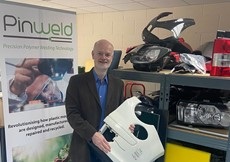 Calne-based Pinweld has been awarded nearly £500,000 from the government's SMART Innovate UK scheme to continue researching and testing its ground-breaking plastic welding technology.

Pinweld's polymer welding technology – which fuses pieces of plastic – gives discrete yet strong welds. Its goal is to achieve the same strength and flexibility as the original material, and the technology is attracting substantial interest from the automotive repair sector in the UK.

The funding, part of Innovate UK's £23m investment to deliver disruptive R&D innovations that can significantly impact the UK economy, will help Pinweld and its partners, TWI and Rainbow Engineering, move into the next phase of development at TWI in Cambridge.