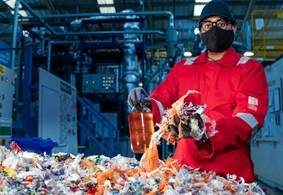 Swindon-based Recycling Technologies, a specialist plastic recycling technology provider, is to be part of a major project involving Unilever to recover and reuse plastic packaging.
Along with Neste, the world's leading provider of renewable diesel, sustainable aviation fuel, and a forerunner in drop-in renewable and circular chemical solutions; and Unilever, the consumer goods manufacturer of leading global brands, Recycling Technologies will collaborate to further develop and harness chemical recycling to recover and reuse plastic packaging.
A joint project involving these three companies has been awarded a £3.1m grant from UK Research and Innovation (UKRI) to develop chemical recycling by combining the expertise of these global leaders in their respective business areas to make hard-to-recycle plastic packaging recyclable.