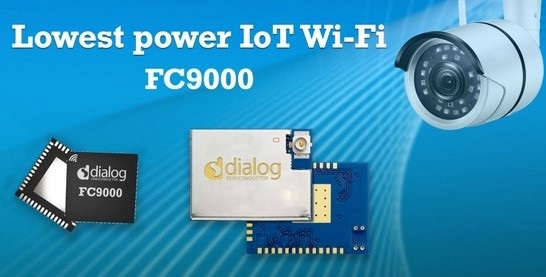 Swindon-based Dialog Semiconductor a provider of highly integrated power management, AC/DC power conversion, audio, charging and Bluetooth low energy technology, has introduced a new chip which will have far reaching use in the internet of things (IoT).
It will be Dialog's first Wi-Fi system on a chip (SoC) to be released since the closing of the acquisition of Silicon Motion's Mobile Communications product line in May. The FC9000 is targeted at battery-powered IoT devices such as smart door locks, video monitoring systems, smart thermostats, and wireless sensors enabling direct connectivity to Wi-Fi networks, while typically supporting a battery power lifetime greater than one year.
The company said: "Previously, devices running on Zigbee, ZWave or Bluetooth standards needed to be paired with an expensive and cumbersome gateway or smartphone to enable connectivity to the cloud, adding complexity and unnecessary costs for IoT adoption. The introduction of the FC9000 overcomes these issues as we move towards a Wi-Fi ubiquitous world."
More details here.