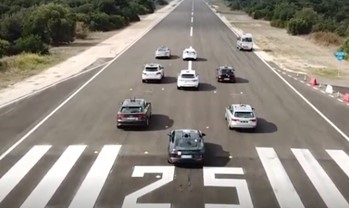 Bradford on Avon-based AB Dynamics has collaborated with VW, Audi and Porsche to demonstrate what is claimed to be the greatest number of vehicles to be successfully synchronized in a "swarm test".
The movements of seven automated vehicles were synchronised with an Ego vehicle (the vehicle under test) in a range of tests at the Nardò Technical Center, Italy. A total of 152 tests were carried out over 11 days, including high-speed runs up to 130km/h and 'cutting in' manoeuvres with vehicles as close as 1m.
AB Dynamics supplied test equipment and engineers from its UK and German offices, and from its Italian distributor, Leane, who worked in conjunction with personnel from VW, Audi and Porsche.